Metal Braces Specialist in San Jose CA, on Blossom Hill Rd
Metal braces are an orthodontic treatment that may be used to straighten crooked or overcrowded teeth. Braces can also help you improve your dental health. They are highly durable and long-lasting. They are designed to stay properly in the oral cavity for an extended period of time. At NuSmile Dental & Orthodontics,

Dr. Lawrence Wu, DDS

provides metal braces to efficiently straighten your teeth and improve your smile. For more information,

contact us

or

schedule an appointment

online. We are conveniently located at

1319 Blossom Hill Rd, San Jose, CA 95118

.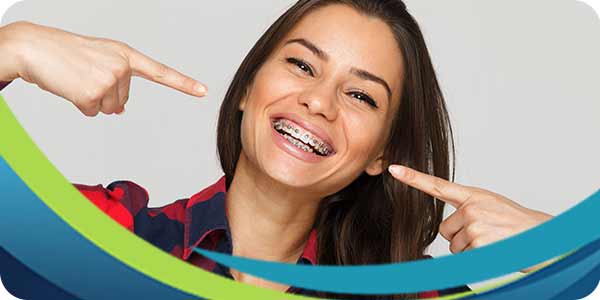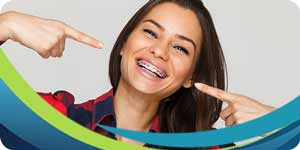 Table of Contents:
How do metal braces work?
What types of metal braces are there?
What are the advantages of metal braces?
What is the difference between metal braces and ceramic braces?
Metal braces have been the go-to treatment for decades due to their proven effectiveness in treating a wide range of orthodontic issues, such as underbites, overbites, and crowding. They are particularly useful for complex cases where other treatment options may not provide the same high-level results.
At NuSmile Dental & Orthodontics, we specialize in metal braces to help correct your specific dental needs. For more information about the types of braces we offer, contact us today or book online to schedule an appointment at your earliest convenience.
How do metal braces work?

Metal braces, also known as traditional braces, work by applying pressure to the teeth to gradually move them into their desired positions.

These braces consist of brackets, which are small squares attached to each tooth, and archwires, which connect the brackets and apply pressure to the teeth. The brackets are made of stainless steel or other metal alloys and are bonded to the teeth using a special dental cement.

The archwire is threaded through each bracket and held in place by small rubber bands called ligatures. As the archwire is tightened, it applies pressure to the brackets, which then apply pressure to the teeth.

Over time, this consistent pressure causes the teeth to shift into a desirable position.

Adjustments to traditional braces are made every few weeks during a visit to the orthodontist so that the archwire can be tightened and the ligatures changed. This helps to continue the movement of the teeth over time so that the end goal can be achieved.
What types of metal braces are there?

There are several different types of metal braces, with the most common being traditional braces. Traditional metal braces consist of brackets that are bonded to the teeth and connected by a wire.

Another type is self-ligating braces, which use a special type of bracket that eliminates the need for rubber bands to hold the wire in place. This typically makes them more comfortable to wear and easier to clean.

Lingual braces are another variety available; however, unlike the lay of traditional braces, they are attached to the back of the teeth which makes them virtually invisible.

Lastly, mini metal braces are a smaller version of traditional braces and are used to treat mild to moderate dental issues. They are smaller and less noticeable than traditional braces, but they may not be as effective when it comes to treating complex dental problems.
What are the advantages of metal braces?

While there are many different types of braces to choose from today, traditional braces are still a highly effective, comfortable, and affordable option for achieving a healthier smile. Some of the advantages of metal braces are:

• Affordability. Metal braces are one of the most cost-effective orthodontic treatments available today. 
• Customization. Traditional braces come in a wide range of shapes and sizes, so they can be customized to meet the specific needs of each patient. 
• Durability. Metal braces are made from strong, high-quality materials that are designed to last throughout the entire treatment process, including the daily wear and tear of eating, speaking, and brushing your teeth. 
• Effective. Traditional braces are very effective at correcting a plethora of dental issues, including crowding, spacing, bite issues, and more. 
• Shorter treatment time. Many patients find that metal braces can help them achieve the desired results in a shorter amount of time than some other types of braces. 
What is the difference between metal braces and ceramic braces?

Traditional metal braces are made up of metal brackets that are attached to each tooth using a special adhesive. These brackets are connected by a metal wire that is adjusted by the orthodontist to gradually shift the teeth into proper alignment.

In addition to the brackets and wire, metal braces also use elastic bands to help apply pressure to certain teeth for targeted movement.

In contrast, ceramic braces are similar in design but use tooth-colored or clear brackets made from ceramic materials. This makes them much less noticeable than traditional metal braces, which often makes them a preferred choice by those who want a more subtle option for their orthodontic treatment.

If you're considering braces and would like more information about which option is right for you, contact us today at NuSmile Dental & Orthodontics or schedule an appointment online. Our experienced dental team would be happy to go over your choices with you so that you can feel good about your treatment moving forward. We are conveniently located at 1319 Blossom Hill Rd, San Jose, CA 95118. We serve patients from San Jose CA, Los Gatos CA, Campbell CA, Santa Clara CA, Cupertino CA, Sunnyvale CA, Saratoga CA, and Mountain View CA.