Dental Implants Specialist in San Jose, CA
Do you want to replace your missing teeth? Visit NuSmile Dental & Orthodontics for dental implants. For more information call us or book an appointment online. We are conveniently located at 1319 Blossom Hill Rd, San Jose, CA 95118.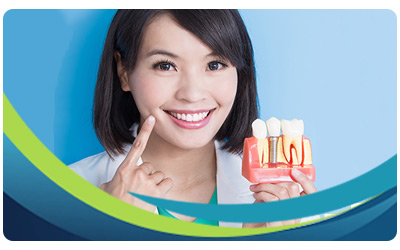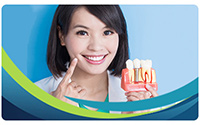 Teeth are strong and resilient structures, providing a sharp and powerful biting force for masticating food. However, teeth can become chipped, damaged, malpositioned, and even fall out. Teeth are more likely to fall out if they become infected, which can occur from a chipped or cracked tooth. Fortunately, dental implants can restore a single tooth or full set of teeth for both practical and aesthetic purposes.
What are dental implants?
Dental implants are a medical application performed to replace missing teeth, either a single tooth or full set of teeth. Usually made of an artificial tooth root in the form of a screw, dental implants are perceived as a part of the body with their specialized design and have a high degree of success. Dental implants are one of the most commonly preferred methods by people who have missing teeth because both patients with a single tooth missing and patients with no teeth can benefit from dental implants. Dental implants also do not interfere with adjacent teeth, making them an attractive option for most people.
What is the process for getting dental implants?
Dental implants are applied in three or four basic steps:
Placement of the implant — During this step, the implant is placed into the jawbone. Some swelling and/or tenderness may be present after the surgery, therefore pain medication may be prescribed to help relieve the pain.
The healing process — The healing process is the most vital step, as the bone actually grows around the implant and holds it in place; this is why dental implants are so strong. This process is called osseointegration and takes time; some people might need to wait until the implant is completely integrated before a permanent replacement tooth can be attached to the implant. This can take several months. In other cases, some people can have the implant and a temporary replacement tooth placed all in the same visit. The length of the healing process varies from one person to the next and depends on location of the replacement tooth and the type of implant being used.
Replacing the missing tooth — For a single tooth implant, a new tooth may be customized, which is known as a dental crown. It is based on a size, shape, and color that will blend naturally with the other teeth. Once completed, the manmade tooth is attached to the implant post.
To get a dental implant, contact our office today and one of our professionals will be happy to assist you.
What are the benefits of dental implants?
There are many benefits of dental implants:
Prevents Bone Loss
Matches Natural Teeth
Restores Bite Force
Prevents Changes In Facial Shape
Enables Natural Speech
Will Not Get Cavities
Easy to Care For
No Embarrassing Slippage
Supports Adjacent Teeth
A Permanent Solution to Tooth Loss
Will insurance pay for dental implants?
Some insurance plans do cover dental implants, either partially or fully. It is essential to check with your insurance policy before receiving dental implants to confirm any coverage. The dental insurance plans we accept at NuSmile Dental & Orthodontics include:
Cigna Dental
Delta Dental
Guardian Dental
Lincoln Dental
Local Union Insurance
MetLife Dental
Sunlife Dental
United Concorida
UnitedHealthcare
And Many More Dental Plans
If you do not see your dental insurance plans listed above, please call our office to find out what other options may be available to you. At NuSmile Dental & Orthodontics, we are dedicated to providing you with all of your dental implant needs. Our dentist is experienced at performing dental implants and can help you achieve the smile of your desires! Call us today to book an appointment for a dental implant, or visit our office conveniently located at 1319 Blossom Hill Road, San Jose, CA 95118. We serve patients from San Jose CA, Los Gatos CA, Campbell CA, Santa Clara CA, Cupertino CA, Sunnyvale CA, Saratoga CA, and Mountain View CA. We look forward to serving you!